Lindsey Baker Honored with Prestigious Award
PBPO is thrilled to share that Lindsey Baker, PBPO attorney volunteer and North America General Counsel for GE Additive, was recently honored with the Ohio State Bar Foundation's District 1 Community Service Award for Attorneys 40 and Under. This award is presented to attorneys in Ohio who are age 40 or younger, and who donate their time and effort in service to social service organizations like PBPO.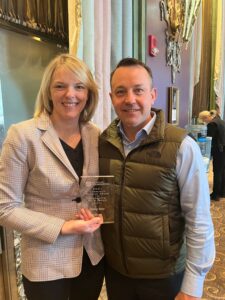 A strong champion of PBPO's mission, GE has continuously gone above and beyond. Since PBPO's founding, over 55 GE attorneys like Lindsey have donated their time and talent to strengthen local nonprofits with pro bono business legal services and education, with an estimated value of services provided at more than $420,000. GE has also generously supported PBPO with charitable contributions totaling more than $200,000 over the past seven years.
"One of the first things I recognized when I joined GE is its culture of giving. The positive energy that the GE legal team puts into making a difference in the workplace and in the community makes me proud to be part of the GE family," said John Martinez, Vice President and General Counsel, GE Aviation. "It's incredible when you realize how each hour of expertise provided by Lindsey and the rest of the team adds up to make a significant impact for non-profit organizations that are providing assistance to those in need in our community," he said.
Lindsey has been a PBPO attorney volunteer since 2017 and has completed an amazing 35+ hours of pro bono service during that time. She has worked with clients in the areas of contract drafting, landlord-tenant negotiations, drafting liability waivers, and more. When asked why she volunteers for PBPO, Lindsey said "PBPO is an incredible organization that reaches so many non-profits in our community. Volunteering for PBPO allows me to use my legal skillset to help those non-profits succeed. It's a way to give back that is convenient and always rewarding."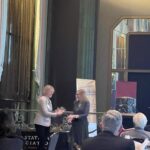 Despite her full-time legal practice, family, and pro bono volunteer service, Lindsey still finds time to serve as a member of the Grow PBPO Advisory Board, holding a leadership role as Co-Chair of the Development Committee. Over the past four years she has spearheaded several events to engage the attorney community in pro bono work for local nonprofits and to raise needed funds for PBPO. Specifically, she is co-chairing Grow PBPO's upcoming Pins for PBPO fundraiser scheduled for June 16!
We could not think of anyone else more deserving of the Ohio State Bar Foundation's District 1 Community Service Award for Attorneys 40 and Under. PBPO is a stronger organization because of Lindsey's efforts, and the ripple effect of her good works on behalf of nonprofit organizations will be felt throughout our community well into the future. Congratulations, Lindsey!