PBPO 2019 Annual Report and Five Year Accomplishments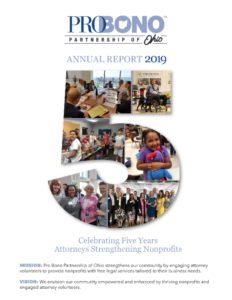 2019 was a year of celebrating our five-year anniversary, expanding outreach to nonprofits, and record-breaking engagement from the Cincinnati and Dayton legal communities. Check out our 2019 Annual Report for an overview of the incredible work accomplished last year by our dedicated attorney volunteers, hard-working staff, and committed partners.
In 2019, we celebrated our five-year anniversary, taking a moment to reflect on all that we accomplished with our volunteers, partners and donors:
an amazing 625+ attorney volunteers have donated their time and talents,
handling over 1300 unique legal matters,
enabling us to serve more than 200 area nonprofit clients,
saving our nonprofit friends nearly $3 million!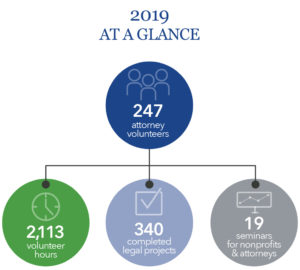 As proud as we are of how far we've come, we are just as excited to look to the future and what can be achieved in the next five years. With the community's belief in our mission and support of our cause, we will continue to engage new attorney volunteers, welcome additional nonprofit clients, and provide nonprofits a solid legal foundation so that their leadership can focus on what they do best — making a deep impact on the people and communities they serve.