Nonprofit Highlight: Circle Tail

Circle Tail is people helping dogs who help people. They are an Assistance Dogs International (ADI) accredited organization that provides service and hearing dogs for people with disabilities, at no charge to the individual. They strengthen the human-canine bond through their dog adoption program, educational programs, and dog training services. They have an innovative program with nearby prisons to engage inmates in training the dogs.
PBPO has benefitted Circle Tail immensely. We're a small organization, and would not be able to afford the legal services that we've been provided. The attorney volunteers always take the time to give us the information we need – we can feel confident that we are doing things correctly, and allows us to use our resources to literally go to the dogs. – Jen Kiblinger, Board President
Watch a video about Circle Tail and how PBPO has supported them. 
Training a service dog is a costly endeavor that many people can't afford. It costs about $20,000 to fully train and partner a dog, which includes support throughout the life of the team. Circle Tail only charges a nominal $25 application fee (the same amount since Circle Tail's inception in 1997) to the service dog recipients. They rely on the support of the community and grantors to fund their programs.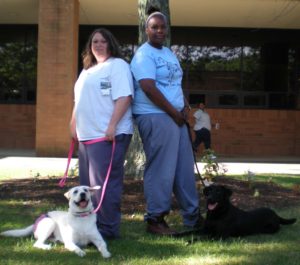 Service dogs are trained through a rehabilitative Prison Program at nearby prisons, where Circle Tail has taught inmates to care for and work with the dogs. Each of these inmates also has their own story about how Circle Tail has positively impacted their lives. Marlys, Circle Tail's Founder and Executive Director, provides regular instruction to the inmates in training the dogs. The inmates are responsible for all of the dogs' physical and emotional needs.
Circle Tail also utilizes foster families to give the dogs experience in real world situations. Foster families reinforce the training and proper manners in public. Fostering a future service dog is a very rewarding experience.
Dogs not suited to be assistance dogs fulfill their purpose by becoming therapy dogs, working as hospice, funeral home, hotel ambassador dogs, school therapy dogs, adopted to families with children with Autism, or as beloved pets to well-matched families.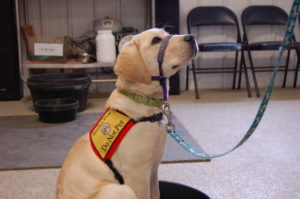 Circle Tail provides a purposeful life to a dog, aids in the rehabilitation of prison inmates, and most importantly, provides people with disabilities the means to lead an independent life in our community. They come full circle by touching many lives:
The recipients of these dogs whose lives are forever changed.
The dogs that were rescued from the shelters or the streets, or who now have the opportunity to fulfill their purpose with the right job.
The prisoners who get a chance to accomplish something positive.
The volunteers who have the chance to help so many.
The adoptive families of the dogs that become lifelong pets.
Learn more about Circle Tails' programs and services on their website.