Volunteer Spotlight: Lindsay Nichols, Thompson Hine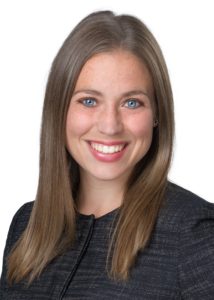 We were proud to give PBPO's first Rising Star Award at our Volunteer Appreciation event to Thompson Hine associate, Lindsay Nichols. Employment questions are at the top of the list of most of PBPO's clients. Lindsay generously shares her employment law expertise with PBPO clients and has volunteered for over 10 projects in the past two years. Even though she is at the beginning of her legal career, Lindsay's positive impact is already causing a ripple effect felt across our community.
Why does Lindsay volunteer with PBPO? 
"First, PBPO is a great organization; they make it so easy to volunteer! But the reason I am excited about my PBPO work is that the non-profit clients are doing big things in and around Cincinnati to make our community better, stronger, and more cohesive.  It's exciting to be a part of that."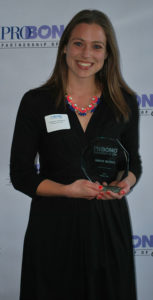 Lindsay practices Labor & Employment law, and is currently an associate at Thompson Hine LLP. Prior to moving to Cincinnati, she practiced employment law in Cleveland and West Virginia.
In addition to volunteering extensively with PBPO, Lindsay is currently participating in the 2018 BOARDway Bound Class through ArtsWave, and is very much looking forward to getting more involved with a local arts organization.
As a relatively new Cincinnatian, she enjoys discovering everything Cincinnati has to offer. Some of her favorite places include: Landlocked Social House for coffee, the Cincinnati Art Museum and the Taft Museum, and the Mercantile Library (which is a gem right in the middle of the business district).  When Lindsay isn't at one of her favorite new Cincinnati spots, she might be cheering on Ohio State.
She is a double Buckeye, having attended both undergrad and law school at Ohio State. O-H!