Nonprofit Highlight: Sweet Cheeks Diaper Bank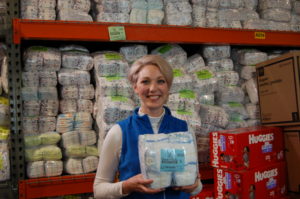 Sweet Cheeks Diaper Bank partners with local social service agencies to provide free diapers to low-income families while raising awareness of the basic health need for diapers. Their vision is to eliminate the existence of diaper need in our community so that all babies have a chance to be healthy, happy, and safe. By working through partner agencies, the donated diapers become an incentive for families involved in programs that can lift them out of poverty.
Diapers aren't covered by any government assistance like Food Stamps, WIC, or Medicaid. If families don't have the cash to buy them, caregivers have to choose between buying food or diapers, leave their babies in the same diaper for two days, or reuse disposable diapers. There are over 16,000 babies in Greater Cincinnati that don't have enough clean diapers each day. They've grown exponentially since they started distributing diapers in April 2016, and are currently sending out nearly 150,000 diapers each month to 41 partner agencies in Greater Cincinnati. There are an additional 30 agencies on a wait list to partner with Sweet Cheeks.
Pro Bono Partnership of Ohio has consistently helped us increase our capacity through their amazing volunteer attorneys. We are small but growing quickly and have many needs for documents, policies, waivers, etc. to help make sure we're doing things well and following the rules so we can continue to grow and thrive. There is no way we would be able to secure and afford this level of professional, quality legal help without the assistance of PBPO! Working with PBPO has been an incredible gift for Sweet Cheeks Diaper Bank. Thank you for investing in our success!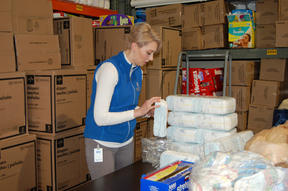 Sweet Cheeks is moving soon into a new 16,000 sq. ft. facility in Lower Price Hill that will allow it to increase its inventory, distribution, and volunteer needs. Sweet Cheeks will be having a ribbon cutting and fundraising happy hour celebration during National Diaper Need Awareness week at the end of September and are excited to finally welcome the community to their new space. Sweet Cheeks Diaper Bank is also proud to be hosting the Diaper Banks of America conference in Cincinnati in October. Read more about Sweet Cheeks and their upcoming move on their website.