Nonprofit Highlight: La Soupe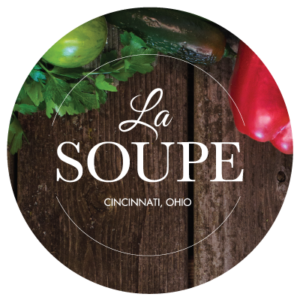 The mission of La Soupe is to bridge the gap between food waste and hunger by rescuing otherwise wasted perishable food to create delicious and highly nutritious meals for food insecure and customers who support their work. Their flagship program/operating model is to rescue/transform and share food offering a solution to those who live in food insecure neighborhoods, face homelessness or other obstacles that prevent them from accessing meals. Through a network of business partners, volunteers and nonprofits, La Soupe has rescued over 1.6 million pounds of food that would have ended up in the landfill since 2016, and donated over 705,000 servings of healthy pan meals and soupes.
"PBPO is both proactive (the Nonprofit Legal Check Up was GREAT) and responsive on behalf of La Soupe. We have the reassurance of a reliable knowledge bank of legal resources to bring to any issue which might arise, allowing us to focus on our mission. The amazing collaboration of PBPO volunteers has achieved our trademark registration, a social media policy, licensing agreements, counsel on background checks, and advice on how to handle the impact of Covid-19. In all of this, we have met some remarkable, generous, and thoughtful legal friends in our mission. We are beyond grateful." – Lisa Wharton, La Soupe Board Member
In response to the COVID 19 pandemic, La Soupe pivoted its programming and created Community Kitchens, a program that hired furloughed restaurant employees and prepared meals with the rescued food it received. Community Kitchen partners include Sleepy Bee, Taste of Belgium, Mita's, Out of Thyme, and Eat Well. Since April 1, these partners have produced 125,846 servings of pan meals and salads to share with our community!
La Soupe recently moved from Newtown to its new permanent location in Walnut Hills. This new expanded space (moving from 900 sq. feet to 10,000 sq. feet!) will allow them to expand their services and accommodate more food and volunteers. They are now offering online ordering and curbside pickup for their delicious soups and other menu items.
Learn more about La Soupe's programs and services on its website.