Nonprofit Highlight: Project Yoga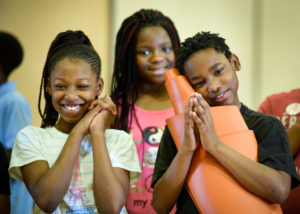 Project Yoga is dedicated to bringing the therapeutic benefits of yoga and mindfulness as intervention modalities to underserved and at-risk communities. The pairing of mindfulness and yoga can reverse habitual responses to difficulty.They lead weekly classes and work with individuals who benefit from consistent, expert guidance. Project Yoga is committed to helping people with the greatest need in Greater Cincinnati – one breath at a time.
"PBPO is an INVALUABLE resource to nonprofits and leaders in our community. It's because of organizations like yours, and generous individuals like all of you (PBPO volunteers), that small and mighty nonprofits like ours can do what we do best. Serve and elevate our community!"
– Gina Fennell, Executive Director, Project Yoga
Project Yoga, founded in 2008, gives underserved communities a chance to experience the emotional and physical well-being that can result from the practices of yoga and mindfulness. They work with people aged 3-103, and partner with local schools and nonprofits to offer their yoga and mindfulness program. In the past 10 years, they have reached over 30,000 children and adults.
How does this work? In their own words, "We teach breathing techniques, showing how the act of breathing mirrors how we feel.  We hone the skills of mindfulness. We teach how to be patient and gentle with ourselves. How to respond rather than react to difficult emotions, pain and stress. To us, learning how to stand on one foot is not as important as learning how to fall and get back up." To learn more about Project Yoga, please visit its website: www.projectyogacincinnati.org