Volunteer Spotlight: Govinda Davis, Dinsmore & Shohl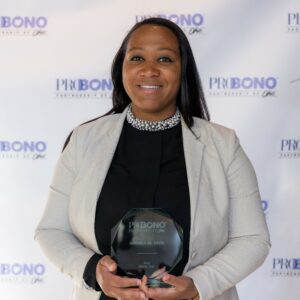 We were proud to give the 2022 Rising Star Award to Govinda at our Volunteer & Donor Appreciation event. An experienced intellectual property lawyer, Govinda focuses her practice on counseling clients – including many PBPO clients – on all aspects of trademark and copyright law.
Govinda has volunteered with 6 of PBPO's nonprofit clients (and counting!) since 2019 – including several that were far more work than the average PBPO project – and the ripple effect of her work is felt across our community.
Why does Govinda volunteer with PBPO?
"I enjoy volunteering with PBPO to help Cincinnati's nonprofits have access to legal services that they would not otherwise be able to afford. These organizations do such great work in our community and serve otherwise underserved populations. It is important to me to give back and pay it forward so that these organizations can continue to make our region a better place."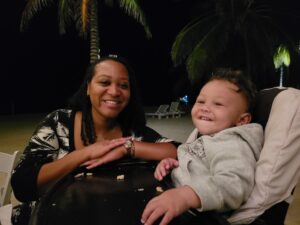 Prior to joining Dinsmore's Cincinnati office, Govinda worked at a boutique intellectual property law firm in New York. She studied law at Seton Hall University School of Law in Newark, New Jersey with a concentration in intellectual property law and entertainment law. While in law school she had a variety of internships that gave her a wide range of skills and opportunities – interning for a federal judge, interning with a sole practitioner in intellectual property, interning at a music publisher and record label, interning at large music company and also at a media/television company. She received her undergraduate degree from Northeastern University in Boston and studied political science and music industry.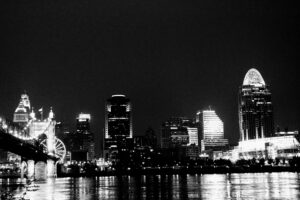 In addition to volunteering with PBPO, Govinda serves on the Board of Trustees of WordPlay, a Cincinnati nonprofit and PBPO client.  On the weekends, you might find her traveling (she's been to almost all 50 states, Europe, Asia, some African countries, Central America, and the Caribbean), learning about history, or spending time with her family.
As hobbies, she enjoys taking pictures – photographing building and city skylines are her favorite – figure skating, and riding her motorcycle when the weather allows.